The Viking Power Challenge has been added to the 2007 World's Strongest Man Super Series (WSMSS) Grand Prix calendar, WSMSS tour director Jesper Albanson told IronMind®, giving "the ten invited athletes a chance to compete for the Viking Power Challenge Trophy, plus the WSMSS Championship and a spot in the 2007 MET-Rx World's Strongest Man contest."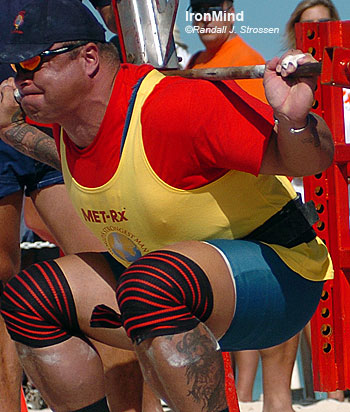 Svend Karlsen on the barrel squat at the 2004 MET-Rx World's Strongest Man contest. IronMind® | Randall J. Strossen, Ph.D. photo.

Quick to credit the groundwork that is already in place for this competition, Albanson said, "Svend (and Lene Karlsen have done) a tremendous job putting this event together . . . Being telecast on Norwegian state television (TV2) and the WSMSS international carriers, the event is likely to be one of this year's most prestigious competitions."

Svend Karlsen, 2001 World's Strongest Man winner told IronMind®, "As a member of the Super Series organization, I am happy to be the one who brings the tour to the land of the Vikings." Karlsen, who retired from competition last year, said, "I will combine my role as promoter with 'my continued duties as WSM Super Series' commentator, alongside Colin Bryce."

As for the competitors, the line-up is formidable: Mariusz Pudzianowski, Janne Virtanen, Terry Hollands, Jarek Dymek, Karl Gillingham, Boris Haraldson and Rene Minkwitz have been invited, and Svend said that he has "one additional big name to add to the line-up," which he will announce shortly. In addition, Svend, said "Norway's flag will be defended by the top two finishers of 2007 Norway's Strongest Man contest."

Mark your calendar for this triple-seven event: It's scheduled for July 7, 2007 and for full details about this and other World's Strongest Man Super Series events, please contact: info@super-series.com.