Viking Power Coming to the Mohegan Sun
Svend "Viking Power" Karlsen - one of the world's most recognized professional strongmen - told IronMind that he will be competing at the just-announced World's Strongest Man Super Series Mohegan Sun Grand Prix.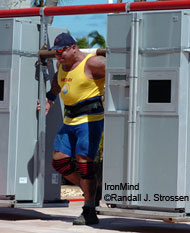 Svend Karlsen given the Fridge Carry a run for its money at the 2004 World's Strongest Man contest (Paradise Island, Bahamas). IronMind® | Randall J. Strossen, Ph.D. photo.
Karlsen, who won the World's Strongest Man contest in 2001, showed that he was serious when he said that he would definitely be competing in WSM Super Series contests this year when he announced his intention to be at the Mohegan Sun Grand Prix on June 1. Already "back to almost maximum power in the gym," Karlsen said that he plans to begin event training in a couple of weeks - right now, there is over a meter of snow on the ground at his home, which makes training outside a bit difficult, even if you are a Viking.