Viking Death Grip Challenge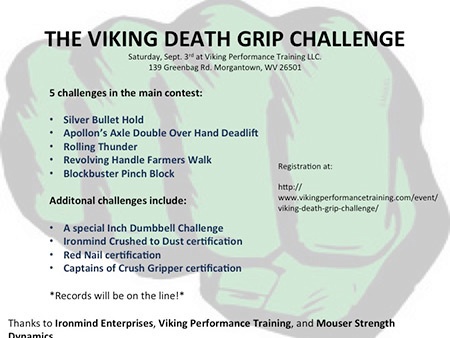 If you're in the West Virginia area and have been dying to get into grip contest, the Viking Death Grip competition is perfect for you.

"I am getting pretty excited for this event," contest organizer Paul Mouser told IronMind. "Hopefully this marks the beginning of a growth spurt for grip sport in this part of the country."

Promoting the contest, Mouser said, "One of the biggest grip strength events in the country is coming to Morgantown, West Virginia state and world records will be on the line in a series of grueling grip tests.

"Additional special attraction challenges will be also be available for those with brave souls and mighty hands to attempt.

"Tentative events include (subject to change):

Double Overhand Apollon's Axle Max Deadlift
Rolling Thunder Max
Blockbuster Pinch Max
Captains of Crush Silver Bullet Hold for Time
Revolving Handle Farmer's Walk"



                                       ###



You can also follow IronMind on Twitter and on Facebook.                        



Want to talk grip, strongman, weightlifting . . . everything strength? Visit the IronMind Forum.