Vierra Going for a Six-Pack
This weekend's Highland Games World Championships is going to be close and hard fought, said Dr. Douglas Edmunds, predicting that the battle will come down to defending champion Ryan Vierra (USA) and challenger Gregor Edmunds (Scotland), with Kyrylo Chuprynin (Ukraine) being the dark horse.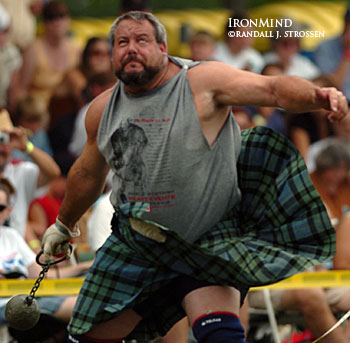 Don't plan on Ryan Vierra rolling over and playing dead this weekend when he defends his Highland Games World Champion title in Inverness, Scotland. In addition to his unblinking focus and never-say-die competitiveness, rumor has it that Ryan will have his favorite distance marker/target on the field . . . which could help boost his throws. IronMind® | Randall J. Strossen, Ph.D. photo.

"Gregor's up for it," Dr. Edmunds said, hoping that his son can bring the title back to Scotland, where - due to Californians Jim McGoldrick and Ryan Vierra - it has been an infrequent guest in recent years. Between them, McGoldrick and Vierra have each won the Highland Games World Championships five times, and while McGoldrick is retired, Vierra will be looking for his sixth victory this weekend.