Vidas Blekaitis Wins in Lithuania
Vidas Blekaitis from Lithuania won his third personal title (he also won in2002 and 2009) in this longstanding strongman competition," contest organizer Vytautas Kirkliauskas reported to IronMind.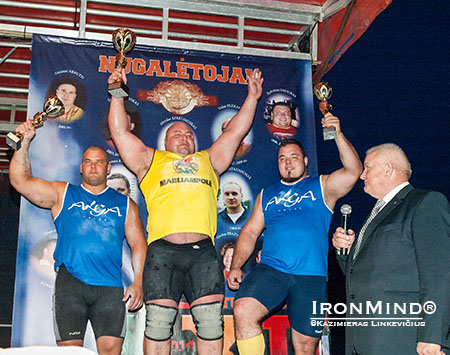 Here's the podium from this weekend's strongman competition in Marijampole, Lithuania, along with mayor, Vidmantas Brazys. IronMind® | Photo courtesy of Kazimieras Linkevičius


"The athletes faced 6 extremely tough events, leaving Vidas tired but very happy after the competition: 'It is very hard to win here and I am happy about my victory.'"

Final results
1. Vidas Blekaitis (Lithuania) 44 pts.
2. Rauno Heinla (Estonia) 39
3. Matjaž Belšak (Slovenia) 37
4. Saulius Brusokas (Lithuania) 34.5
5. Oskars Martužans (Latvia) 26
6. Rafal Kobylarsz (Poland) 24
7. Mateusz Baron (Poland) 23
8. Artis Plivda (Latvia) 22
9. Konstantine Janashia (Georgia) 20.5

###



Visit the IronMind Forum: talk strength, discuss this story. Strongman, grip, Highland Games, Olympic lifting, stones and more.

You can also follow IronMind on Twitter and on Facebook.