Vicktor(iou)s Schyrbatihs: Wins Supers
Sofia, Bulgaria - Vicktors Schyrbatihs (Latvia) proved the value of backing up a consistent performance with a big clean and jerk, as he won the superheavyweight class at the Europeans Weightlifting Championships today.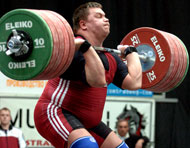 Victory in hand, Vicktors Schyrbatihs (Latvia) comes up with a 250-kg clean and jerk to claim the superheavyweight title at the European Weightlifting Championships today. IronMind® | Randall J. Strossen, Ph.D. photo.
The Russian snatching machine Evgeny Chigishev ripped through 197.5 and 205 before missing a European record attempt at 210.5 but that alone doesn't describe the caliber of the snatching at this year's European Weightlifting Championships: The three lifters trailing Chigishev all did 200 kg. and one of them was Schyrbatihs, and another was Ashot Danielyan (Armenia) - and both are capable of big clean and jerks.

Danielyan and Chigishev opened with solid 235-kg clean and jerks, and Shyrbatihs took a routine 242.5 for his first attempt, the same weight Chigishev would make on his second attempt. Chigishev deadlifted 245 for his third attempt, so now it was up to the to other lifters to determine the final outcome.

Schyrbatihs needed 250 to move into the lead, and he made a very solid lift - leaving no doubt that he could do more if necessary. Danielyan took 252.5, looking to move up in the jerk, but he missed the clean, and Schyrbatihs was victorious with his 450 total, followed by Chigishev at 447.5 and Danielyan at 440.