Vasily Alexeev Receives EWF Certificate of Merit
Bucharest - Vasily Alexeev received the prestigious European Weightlifting Federation Certificate of Merit today, following the women's 53-kg category.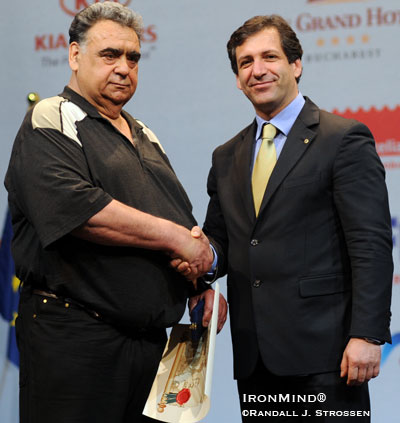 European Weightlifting Federation president Antonio Urso (right) presents the Certificate of Merit to Vasily Alexeev (left). IronMind® | Randall J. Strossen photo.


Opening the competition at the 2009 European Weightlifting Championships, the women's 53-kg class took the stage today in Bucharest, Romania. Nastassia Novikava (Belarus) left with a silver medal in the snatch (96 kg), a gold medal in the jerk (120 kg) and a gold medal in the total (216 kg). Yulia Kalina (Ukraine) was the silver medalist in the total (212 kg) and Romela Begaj was bronze medalist (207 kg).