Vache Sevajian and Andrew Durniat Certify on the Captains of Crush No. 3.5 Gripper
Los Angeles—Officially closing a Captains of Crush No. 3.5 gripper is a rare event, but today at the Los Angeles FitExpo, history was made as not one, but two men—Vache Sevajian and Andrew Durniat—succeeded on this world class test of grip strength.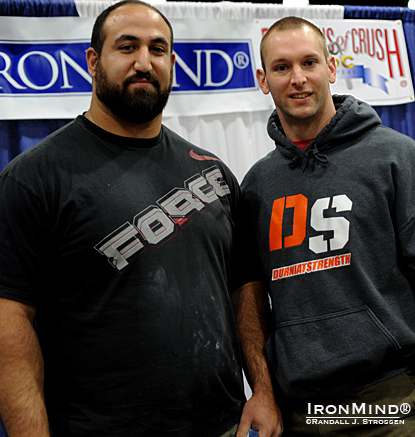 Vache Sevajian (left) and Andrew Durniat (right) have just been certified on the Captains of Crush No. 3.5 gripper. IronMind® | Randall J. Strossen photo.


Vache Sevajian had contacted IronMind recently and said he was ready to be certified on the Captains of Crush No. 3.5 gripper and while arrangements were made to have Sevajian take his official attempt at the Los Angeles FitExpo, this was not widely known.

Sevajian took two attempts, with referee Kevin Bussi, calling both short of a full close and the three of us discussed the possibility that the gripper might be opening a bit when Sevajian lifted his pinky to show the touch. I mentioned that Magnus Samuelsson had a similar problem on some of his closes and I had discussed this with Richard Sorin, proposing that if the referee can hear the handles grinding, even if his view is blocked, the gripper should be considered closed. Sorin agreed with this, and so it was decided that if on Sevajian's next attempt, if his pinky was blocking the referee's view, he was to grind the handles to prove they were touching.

As it turned out, there was no need to invoke this principle as Sevajian got a clean close, nailing the CoC No. 3.5 as Andrew Durniat made the call on Sevajian's no-doubt-about-it comeback attempt.

A little later in the day, Andrew Durniat asked about taking a crack at the CoC 3.5 as he was motivated by Sevajian's success and as it turned out, for good reason, as he demolished the gripper on his first attempt.

Congratulations Vache and Andrew—your names have been added to the Captains of Crush No. 3.5 certification list—and many thanks to the referees who served on these attempts: Kevin Bussi, Andrew Durniat and Fernando Rodriguez.

###



Visit the IronMind Forum: talk strength, discuss this story. Strongman, grip, Highland Games, Olympic lifting, stones and more.

You can also follow IronMind on Twitter.