Vache Sevajian Certifies on the No. 3 Captains of Crush® Gripper
For nearly two decades, IronMind® has been telling people that there is a secret to closing the No. 3: it takes a really strong hand . . . and that's what Vache Sevajian brings to the table.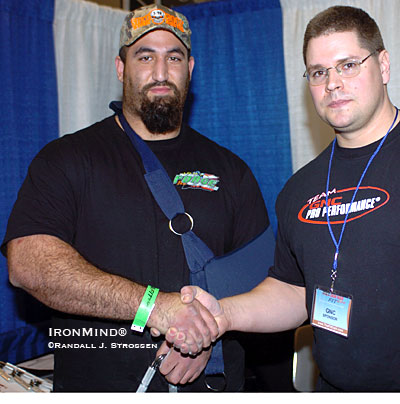 He might have been flying with one wing that day, but don't think that stopped Vache Sevajian (left) from dominating a No. 3 Captains of Crush® Gripper to the point that he absolutely amazed Wade Gillingham (right). IronMind® | Randall J. Strossen photo.


At the 2007 FitExpo, Randall Strossen was minding his own business taking pictures of the All-American Strongman Challenge when Wade Gillingham came running out of the expo hall. Usually pretty calm, Wade was agitated: "You've got to see this guy - he just closed a No. 3 . . . !"

Wade Gillingham knows a thing or two about grip strength and to impress him really counts, so there was no question that something big was going on.

Vache Sevajian is the opposite of someone who, with more finesse - or deception - than strength, manages to touch the handles on a No. 3 Captains of Crush® Gripper. No cooked grippers or deep sets for Vache Sevajian because he has a different trick up his sleeve: more horsepower in his hands than most people can even imagine.

This is a guy who told IronMind that he banged out 15 reps on a No. 2 Captains of Crush® Gripper the first time he tried it - a stunning example of grip strength. And the first time he tried a No. 3 Captains of Crush® Gripper, Vache said, he came within a quarter of an inch of closing it.

But close it he did at the FitExpo last year and while IronMind® would have loved to certify him then, we had all the pieces required but one of the photos. Now that he's got a camera, though, the photo has been taken and filed with IronMind®, and it's official: Vache Sevajian has been certified on the No. 3 Captains of Crush® Gripper - and he's the first man in 2008 to achieve this universal benchmark of world-class grip strength.

Vache Sevajian's performance on the No. 3 Captains of Crush® Gripper dropped Wade Gillingham's jaw, but wait, because an encore is being planned: Vache Sevajian told IronMind® that he has, "two goals for the upcoming year. Close the No. 3 or No. 3.5 with my left hand, and close the No. 4 with my right." And for everyone who wonders who will be the next man to certify on the No. 4 Captains of Crush® Gripper, consider this an introduction to a leader on IronMind®'s shortlist of the favorites.

"I have no doubt in my mind that my name will be on the No. 4 certification list," Vache said, and from what we've seen, it's all in his hands.