Uzbekistan Power in the 85s
Gunsan, Korea - He got the ball rolling by winning the snatch, and then Farhat Saidov (Uzbekistan) added a silver medal in the clean and jerk, and a gold in the total in the 85-kg class at the Asian Junior Weightlifting Championships today.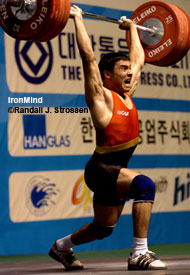 Growl power: Farhat Saidov stuck this 175-kg jerk at the Asian Junior Championships today in Gunsan, Korea. IronMind® | Randall J. Strossen, Ph.D. photo.
Farhat Saidov started snatching after everyone else was done, and he ripped up 145 for his opener, stuck 148 on his second attempt, but then missed 152 on his third. Kim Hyun-ho (Korea) won the gold in the jerk with 176, followed by Saidov at 175 and Kim Kyung-wook (Korea) at 173.