Ultimate Masters World's Strongest Man
Irish strongman and promoter Glenn Ross has been working on it for about three years and now it's happening: the Ultimate Masters World's Strongest Man contest.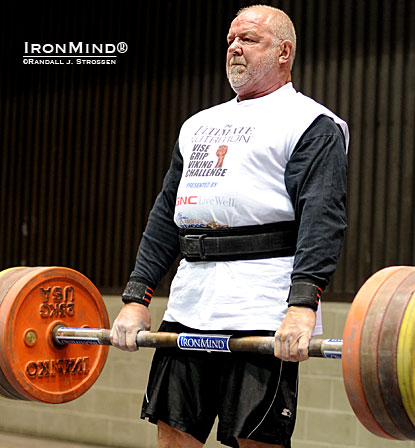 His beard is grey–his grip mighty–and on a age-adjusted basis, Odd Haugen is one of the baddest strongman competitors on the planet. IronMind® | Randall J. Strossen photo.


Some are merely middle aged, some are legitimate senior citizens, and all are very, very strong–this is not your father's or grandfather's weekend pastime: Glenn Ross is gathering name brand strongman competitors who might be a little longer in the tooth than the average guy on the professional circuit, but they are still ready to lift, push, and pull with just about anyone.

Glenn has assembled quite a formidable list of golden oldies ready to show that you'd better smile if you make any wisecracks about whether they got a senior discount on breakfast that morning:

1. Torfi Olafsson–Iceland
2. Rene Minkwitz–Denmark

3. Don Pope–USA

4. Wout Zijlstra–Holland

5. Odd Haugen–Norway

6. Stuart Murray–Scotland

7. Grzegorz Peksa–Poland

8. Glenn Ross–Ireland

Referee: Magnus Samuelsson



Events:

• Plane Pull/Truck Pull: 20 metres, 90 sec, x 1 competitor
• Flag Hoist: 5 flags, timed, 2 x competitors
• Strength Shop Timber Log Lift: for maximum, x 1 competitor
• Squat: for reps: 90 secs timed, x 1 competitor
• Human Wheelbarrow: 20 m, 90 secs timed, x 1 competitor
• Stones of Strength: 5 stones, 100 kg - 160 kg, 90 sec timed, x 2 competitors


Set for Odyssey Queens Quay, Belfast, Ireland on August 29 at 1:00 p.m., this contest might be ushering in a major new category of strongman competitions.

"
I am really stoked to compete," Odd Haugen told IronMind, "and although it's short notice, preparation is going well. I know for a fact that Glenn has been working on this project for three years and it is finally coming to fruition."
Stay tuned for more details.

###

The IronMind Forum: discuss this article, talk strength, get help with your training.

You can also follow IronMind on Twitter.