Ultimate Master World Strongest Man 2012
Ireland's Glen Ross is hosting the Ultimate Master World Strongest Man contest in Belfast this coming weekend and the field is filled with names that strongman fans and fellow competitors will recognize.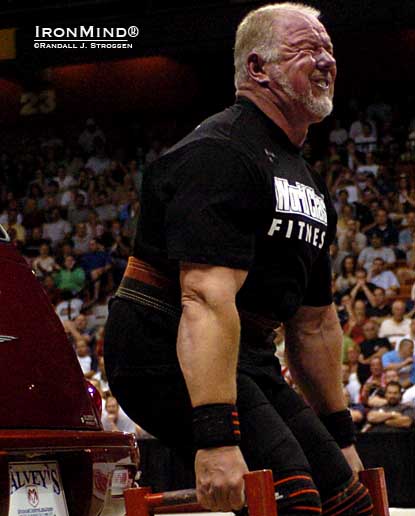 Odd Haugen on the Car Deadlift at the Mohegan Sun in 2006. Haugen retired from open strongman competition in 2010 but the 62-year young Haugen, still a threat to anyone on a number of grip-strength challenges, will be among the strongman competitors vying for the title of Ultimate Master World Strongest Man 2012.


Here's the field:

• Grzegorz Peksa (Poland)
• Chad Coy (USA)
• Derek Boyer (Australia)
• Paul Carter (England)
• Odd Haugen (Norway)
• Rene Minkwitz (Denmark)
• Kevin Murray (Ireland)
• Atanas Abrutis (Lithuania)

This is a two-day competition, with a total of eight events:
Day 1 (Sunday, August 26)

1. Duck Walk (200kg, 15m) and Drag (anchor and chain 300 kg, 15m) x 4 competitors
2. Deadlift Hold of Car: 1 ton vehicle with straps) x 2 competitors
3. Incline Log for Reps: 130 kg x 2 competitors

Day 2 (Monday, August 27)

4. Titanic Hold (Hercules Hold): 170 kg in each hand x 1 competitor
6. Axle Deadlift for Maximum: 250 kg x 1 competitor
5. Truck Pull with Harness and Rope: 20 m x 1 competitor
7. Titanic Compass (Cask Circle): 250 kg for distance x 1 competitor.
8. Stones of Strength: 100 kg- 145 kg on Giants Causeway Wall x2 competitors

###

The IronMind Forum: discuss this article, talk strength, get help with your training.

You can also follow IronMind on Twitter.