Ukrainian Armlifting Federation: Crimean Grip Contest Highlights
Pairing up at the Crimean Armwrestling Championships over the weekend, the Ukrainian Armlifting Federation featured a grip contest on the Rolling Thunder, along with the opportunity to certify on the Crushed-To-Dust! Challenge.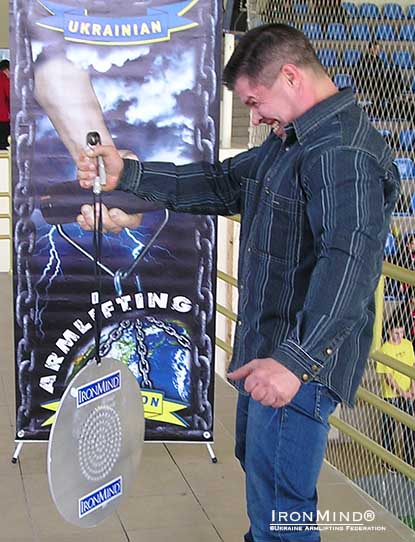 Vyacheslav Gorbunov, vice president of the Ukrainian Armlifting Federation, demonstrates his hand at the CoC Silver Bullet Hold.  IronMind® | Photo courtesy of the Ukrainian Armlifting Federation.

The CoC Silver Bullet and the IronMind Hub were also part of the grip strength competition.  Saprin Stas hit 103 kg on the Rolling Thunder and Ivan Markov did 25 kg on the IronMind Hub and three certifications are pending on the Crush-To-Dust Challenge, as the Ukrainian Armlifting Federation continues to build on its successes in the world of grip strength contests—a natural for a country with such a rich history of achievements in the world of strength sports.

                                                                ### 



The IronMind Forum: discuss this article, talk strength, get help with your training.  

You can also follow IronMind on Twitter.