USAWA Record: Chad Ullom Hits 900-lb. Neck Lift
Thom Van Vleck was in York, Pennsylvania this weekend, where among the performances, Chad Ullom hit a 900-lb. neck lift in the USAWA Heavy Lift Nationals.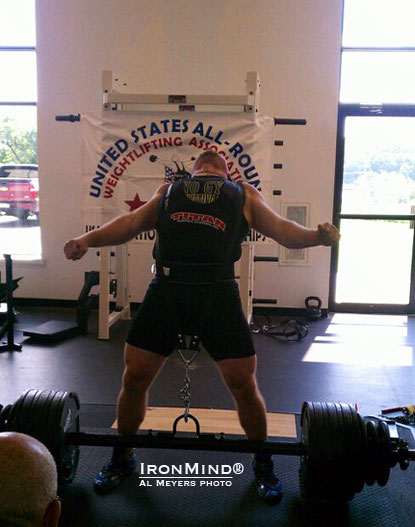 Not a bad place to hit a huge PR: Chad Ullom goes 150-lb. above his best to make this 900-lb. USAWA Neck Lift in York, Pennsylvania this weekend. IronMind® | Al Meyers photo.


Chad Ullom Does 900lb Neck Lift!
by Thom Van Vleck

On Saturday, May 21st, the USAWA Heavy Lift Nationals were held in York, Pennsylvania at York Barbell. Chad Ullom is the current IAWA World Champion (2010). He had been working on this lift for some time and completed a fantastic set of lifts.

On his second attempt he went straight for the record (held by Joe Ciavattone at 805 lb.) with a lift of 810 lb. This was done with difficulty, but it was a clean lift and passed. Then for his third he went to 850 lb. A crowd had gathered and began to cheer him on. Chad seemed energized by the enthusiasm and got it more easily than than the 810. With a 4th attempt left, Chad called for 900 lb! This was no less than 150 lb. over his personal best.
The crowd cheered as Chad set up and with a might pull he cleared the weight and held it well past the "down" call. This was part of a bigger event to set up by Mike Locondro to raise money for the Wounded Warriors, an organization that assists injured military members and to induct Slim "The Hammerman" Farman and the Mighty Atom Joe Greenstein to the Weightlifting Hall of Fame.

###



The IronMind Forum: discuss this article, talk strength, get help with your training.

You can also follow IronMind on Twitter.