USAW 2007 World Team Trial at the Arnold
In another step indicating both the expansion of weightlifting at the Arnold and the Arnold's role as a major sports festival, Jim Lorimer, the longtime partner of California Governor Arnold Schwarzenegger in this eponymous event, and Wes Barnett, USAW Executive Director, have said it's official: USA Weightlifting will hold a World Team Qualifier at the 2007 Arnold.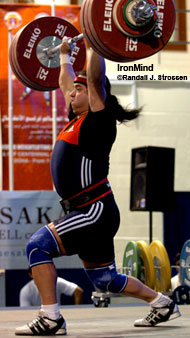 See top American weightlifters like Robert Murphy at the 2007 Arnold as they compete for positions on the US team going to the World Weightlifting Championships, which is an Olympic qualifying event. IronMind® | Randall J. Strossen, Ph.D. photo.

Wes Barnett confirmed that this has been approved by the USA Weightlifting Board of Directors, and he went on to say, "The reason the 2007 World Championships is significant is because these Championships will be used to determine the number of Olympic slots each country qualifies for at the 2008 Olympic Games. Selecting the best possible team for this event is imperative and this raises the importance of the events used to select the World Team."

Jim Lorimer and Governor Schwarzenegger have been enthusiastic supporters of weightlifting at the Arnold, as the sport's presence has expanded in the last two years to include Olympic medalists drawn from around the world, and now for 2007, a top-level meet run under the direction of the sport's National Governing Body is on the program.

Showing both his enthusiasm for and commitment to this latest addition to the weightlifting program at the Arnold Sports Festival, Jim Lorimer said, "We look forward to working with Wes Barnett and the USA Weightlifting Board in presenting a great, high-visibility contest."