USATF Announces Capitol Shot
Kicking off the USATF Outdoor Track & Field Championships in Sacramento, the shot putters will compete at the California state capitol, USATF announced in a press release today.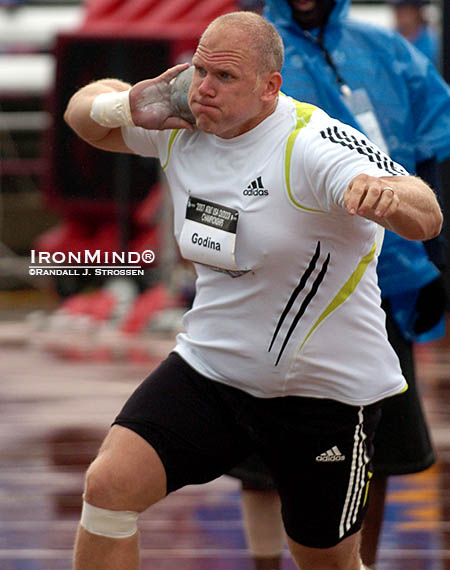 Shown competing at the 2007 USATF Outdoor Nationals, John Godina—a world champion and Olympic medalist in the shot put—was enthusiastic about Capitol Shot increasing exposure for both the event and the overall championships. IronMind® | ©Randall J. Strossen


"Extensive planning among USA Track & Field, Sacramento Sports Commission and California State Capitol led to the creation of the Capitol Shot. While the shot put has been contested in non-stadium settings in invitational and relay meets around the world before, the Capitol Shot marks the first time it's been done at the USATF Championships.

"'Featuring the shot put at the State Capitol will give fans a chance to experience one of track & field's most exciting events in an intimate and innovating setting,'" USATF CEO Max Siegel said. 'Our shot put athletes for years have been among our most fan-friendly performers and are always willing to step out of the box to bring their event the attention it deserves. We thank our partners at the Sacramento Sports Commission and the State Capitol for making this event a reality.'

"Shot-put qualifying for the men and women will be held between 11 a.m. and 1 p.m. on Wednesday, June 25, followed by finals between 4 and 6 p.m. – just when foot traffic outside the Capitol is heaviest."

Follow this link to the full USATF press release.


###



Want to talk strength? Join the IronMind Forum.

You can also follow IronMind on Twitter and on Facebook.