"It's the meet that determines the USA team for the 2007 IPF Worlds later this year in Soelden, Austria," Rick Fowler told IronMind® . . . USA Powerlifting Missouri Chairman Rick Fowler and Meet Director Harold Gaines are going to be serving up a very special edition of the USAPL Nationals this weekend in St. Louis.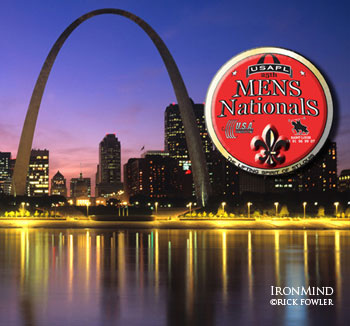 St. Louis will host the USAPL Nationals this weekend - it's the qualifier for the USA team competing at the IPF World Championships later this year. IronMind® | Artwork courtesy of Rick Fowler.

"I've been involved in each Men's Nationals that we've held here [1988, 1991, 1996 & 1999], so I take promoting and the history of the meet seriously," Fowler told IronMind®. "My job is to help Harold in any area that he needs help with."

"We have bought a school bus that will take people from the meet site to the Riverfront Landing on Saturday evening," Fowler said. "We are also doing the Top 25 All-Time Team just after lifting on Saturday."

Look for some big names to be lifting this weekend.

"Legendary lifter Mike Bridges, who is now 50 years of age, is expected to total way over 1,800 lb. at 198," Fowler said, calling Bridges, "the clear favorite" in his class.

Strongman fans know that St. Louis and strongman have a close bond, and that Rick Fowler was a key player in the strongman contests put on by Jim Davis. The tie-in continues with this contest: "Strongman competitors who were first powerlifters and have since came back to powerlifting include Pat McGettigan and Chris Doyle, who are both at 275," said Fowler. "McGettigan could threaten Tony Cardella of Texas, who has won five Men's Open titles."

"In the super heavyweight class, IPF Hall of Famer Brad Gillingham will square off with Jeff Lewis and Lance Karebel. All three are expected to go over 2,300 pounds, and we are expecting this to go down to the last deadlift. With Brad's ability to pull 860+, it has to put him in the driver's seat as a pre-meet favorite."

Setting the stage for the competition, Dr. Pat Anderson wrote "a very nice preview on the meet," Fowler said.

Lifting starts on Friday and continues through Sunday.