USA Weightlifting: Olympic Trials Have Begun
If you're in the Atlanta area, or can go there today or tomorrow, swing by the Ferst Center for the Arts, on the Georgia Tech campus, and watch the top weightlifters in America battle it out for places on the 2008 Olympic team.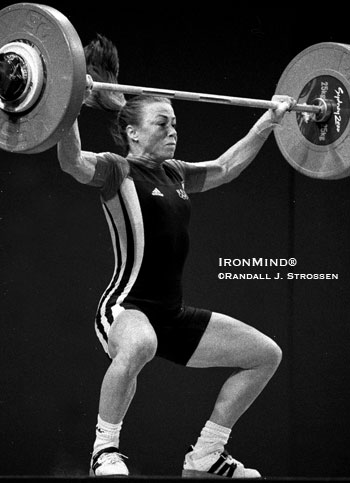 Tara Nott (USA) won the gold medal in the women's 48-kg category at the 2000 Olympics - it was the first time women's weightlifting was on the Olympic program, and Tara won the opening class. Tara Nott's Olympic gold medal in weightlifting is the most recent by an American. Who will be next? IronMind® | Randall J. Strossen photo.

While it most obviously requires tremendous strength and power, the Olympic sport of weightlifting also involves a unique combination of athletic skills as such factors as balance and flexibility figure prominently in the equation. And while the general public, in the USA at least, is underexposed to the sport of weightlifting, seeing it just once can be enough to get people hooked - here is a special opportunity to see America's top weightlifters battle it out for slots in the most coveted of all athletic events, the Olympics.

The action has already begun at the Ferst Center for the Arts, on the Georgia Tech campus, and it continues until 3:00 p.m., and then will resume from 5:30 - 9:30 p.m. tonight. Tomorrow things pick up again, from noon to 4:00 p.m., as the top-ranked men and women give it their all to make their Olympic dream become a reality.