USA Weightlifting: Junior Nationals & Pan Am Trials
Come to the Bay and watch some weightlifting this weekend, as the USA Weightlifting Junior National Championships and Secondary Pan Am Trials kick off tomorrow and run through Sunday.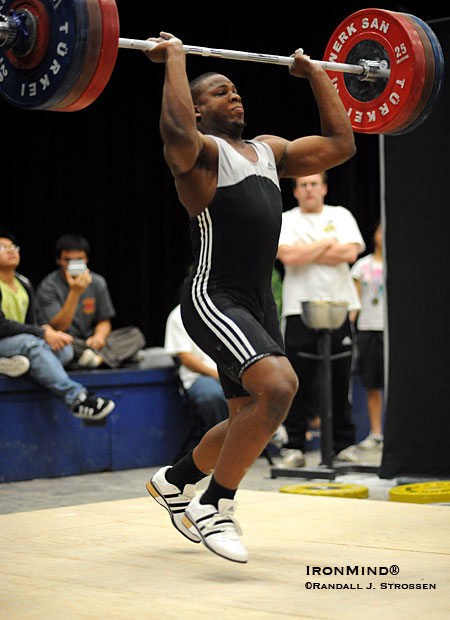 Donovan Ford rewrote the Pacific Weightlifting Association (PWA) record book when he broke all the junior records at the PWA Championships in February. This 172-kg clean and jerk was good for new PWA junior records in the jerk and in the total. Donovan's coach, Paul Doherty (right), is expecting some big numbers this weekend. IronMind® | Randall J. Strossen photo.

One of the coaches with some of this weekend's top lifters is Paul Doherty of Hassle Free Barbell Club, so IronMind® invited Paul to give us an insider's view of what to watch for from his athletes.

"Donovan Ford is currently third on the Junior World Ranking list with his 300-kg total at the American Open, but we expect to see him pushing his way up the list this Sunday with some big PRs. Not far behind him is Sac[ramento] High junior Sae Vang (56 kg). Sae is currently 10th on the Junior World Ranking list and will put it on the bar to get into the top eight. A sleeper in the running is 85-kg Keylin Mackey. Only lifting for two years in between football seasons, he is one of the most explosive athletes on the Hassle Free roster and will post some much-improved numbers. He is just coming off a conservative six-for-six day at the PWA Championships where he posted a 260 total, but he'll need at least 10 more kilos than that. Will it be enough to get him on the team? We think so."

And just to reinforce how dynamic things can be, three days ago, IronMind® got this report from Paul Doherty:

"[On Monday], I drove Donovan down to California Strength in San Ramon. This is where David Spitz runs a gym and lifters such as Donny Shankle and Martin Pashov train. You mentioned it briefly in one of your former MILO® articles as Ivan Abadjjev was there for some time helping to set up the program.

"Well, Donovan wanted to visit his good friend Caleb Ward, currently the #1 Junior in America, to have his last heavy workout. In a dynamite atmosphere Donavan hit an 8-kilo pr in the snatch, 143, narrowly missing 146 behind twice. Sunday should be good, keep your fingers crossed."

For full details on the USAW Junior National Championships & Pan Am Trials, please go to the USAW Junior Nationals website.