USA Weightlifting: Junior Nationals/Pan Am Qualifiers
If you're going to San Francisco, or want a good excuse to do so, the California Weightlifting Fund and FIT Barbell Club are hosting the 2009 USA Weightlifting Junior National Championships and the Pan Am Secondary Qualifier this weekend.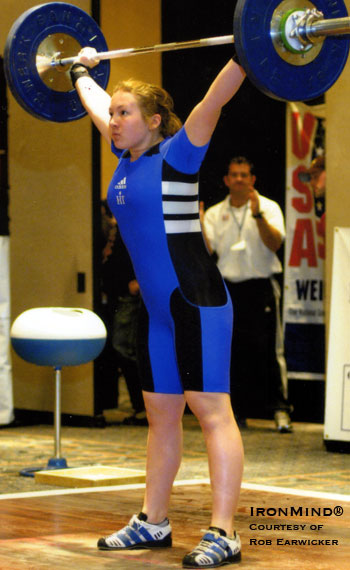 Kate Corbin was third in 2007, second in 2008 and she comes into this weekend's USAW Junior National Championships ranked number one. IronMind® | Photo courtesy of Rob Earwicker.

Meet director Rob Earwicker told IronMind®, "This is the first national Olympic weightlifting meet in the Bay Area since [Steve Gough's Fairfax Weightlifting Club hosted the] American Open in 1994. We have a lot of very talented young lifters here, like Donovan Ford, Kate Corbin, David Garcia, Keylin Mackey, Ian Wilson, Sae Vang, Chris Tiongson, Sydney Munsey and Jenny Lam . . . just to name a few.

"We are very confident that these lifters will be ones to watch for the future," so if you needed an excuse to combine a weekend in San Francisco with some very competitive weightlifting, go to the USAW Junior Nationals.