USA Weightlifting: Collegiate Nationals . . . In Reno, On CBS
Coming up in Reno, Nevada ("The Biggest Little City in the World"), the USA Weightlifting Collegiate Nationals will feature some of the country's top weightlifters, including Norik Vardanian, in a competition that will later be broadcast on CBS.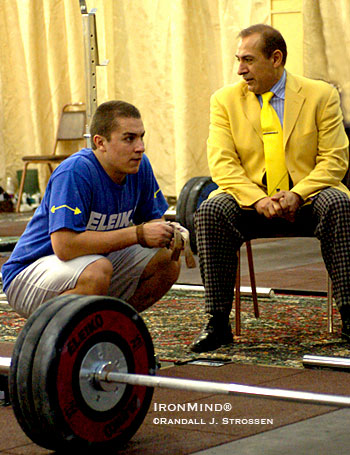 Norik Vardanian (left) conferring with his father, Yurik Vardanian (right), in the training hall (a tent, actually, replete with Oriental rugs) at the 2004 World Weightlifting Championships (Doha, Qatar). IronMind® | Randall J. Strossen photo.

Among the listed starters, Norik Vardanian has been red hot and causing a lot of buzz in the U.S. weightlifting community lately. USA Weightlifting acting executive director Dennis Snethen told IronMind® today, "I think Norik can make the Olympic team," which means winning the battle for one of the two Olympic slots that the USA men's weightlifting team just earned for its top performance at the Pan American Weightlifting Championships.

Referring to the upcoming broadcasts, Dennis Snethen, who has been active in the sport from the grassroots to the national and international levels, told IronMind®, "This a very exciting time for weightlifting," and he talked about a return to the day when weightlifting had great prominence through Vasily Alexeev, an iconic figure with a worldwide media presence.

The USAW National Collegiate Championships are April 11 - 13 in the Downtown Reno Ballroom (Circus Circus, two blocks away, is the official meet hotel), with a live webcast on Sunday. CBS College Sports broadcasts will include May 27, May 28 and June 12, all at 8:00 pm Eastern Standard Time (subject to change), and "all programs will receive significant encores," according to Billy Stone, executive producer of the Collegiate Nationals.

Please check the official USA Weightlifting website for full details.