USA Weightlifting: CJ's C&J Makes History
"14 year old C.J. Cummings became the youngest person in USA Weightlifting history to set a Senior American Record when he cleaned and jerked (C&J) 153k/337.3# at a bodyweight of 61.88k/136.4#," former USA Weightlifting president Jim Schmitz reported to IronMind.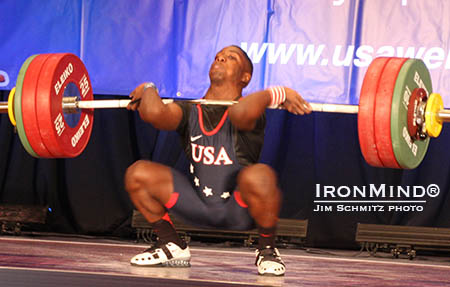 Lifting as a 14-year old in the 62-kg class at the USA Weightlifting National Championships, C.J. Cummings cleaned and jerked 153 kg for a new Senior American Record. IronMind® | Jim Schmitz photo


"He placed 2nd to 29 year old Derrick Johnson, who set two Senior American Records (AR's) with a snatch of 123/271 and a total of 271/597. Caleb Williams set two AR's in the 69/152 class with a C&J of 174/383.6 and a total of 304/670. The 94/207 class broke the US snatch record 3 times: Norik Vardanian did 166/366, Colin Burns did 167/368, then Norik came back and did 168/370. Norik was unable to hold any of his jerks overhead so Colin won the 94's with a 192/423 for 359/791.5 total. Super Heavyweight Caine Wilkes closed out the championships with personal record lifting, snatching 182/401, becoming the 5th US lifter to snatch 400+ pounds and totaled 400k/881# becoming the eighth American to achieve that benchmark. 



"There was a record 408 lifters entered in this championships and thanks to the Salt Lake City organizing committee lead by Utah's Debbie Carroll and USAW's Phil Andrews it came off fantastically, it was one of the best National Championships that I have ever attended," said Schmitz.

###



Want to talk strength? Join the IronMind Forum.

You can also follow IronMind on Twitter and on Facebook.