USA Weightlifting: 2010 School-Age National Championships
"Come watch and cheer on the future stars of Olympic weightlifting," Rob Earwicker said, as the 2010 USA Weightlifting (USAW) School-Age National Championships draw near.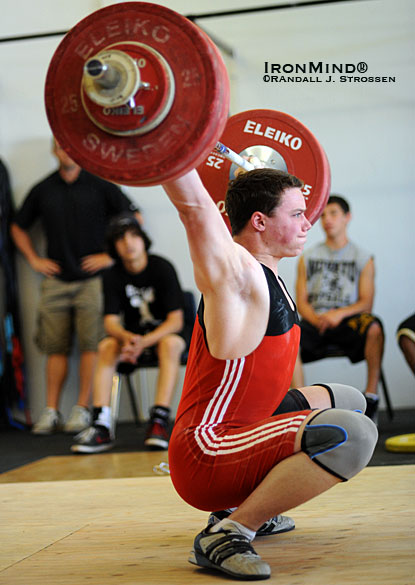 Ian Wilson is expected to produce a performance at the USA Weightlifting School-Age National Championships. This is Ian's 141-kg Junior Pacific Weightlifting Association (PWA) record snatch, set in the 105-kg category at the 2010 Northern California Open Weightlifting Championships. IronMind® | Randall J. Strossen photo.


Starting on Friday morning, this two-platform meet will feature the top younger weightlifters in the United States, with competitors coming from around the country.

The 2010 USAW School-Age National Championships are being held at the Crowne Plaza hotel in Foster City, California, and Jim Schmitz posted a summary of the contest on the IronMind® Forum: ". . . 9:30am to 8+pm Friday and Saturday and 10am to 7+pm on Sunday."

Jim Schmitz also noted, "16-year-old Ian Wilson from Berkeley, CA will be lifting Sunday around 12:30, Ian at a body weight of just under 100 [kg] has done 138 [kg] and 170 [kg], so he should be doing some very impressive lifting."

And if you can't make it in person, this is the San Francisco Bay Area and we are in the 21st century, so here's where you can follow the webcast:
http://usawschoolagenationals.com/live-webcast/


Want to talk strength? Join the IronMind® Forum!

You can also follow IronMind® on Twitter.