USA Given Third Slot for Men's Olympic Weightlifting Team
They started with three slots for the 2008 Olympics, where the strict quota for weightlifting means that each nation's allotment depends on its performance at designated meets, such as the 2007 World Weightlifting Championships (Chiang Mai, Thailand).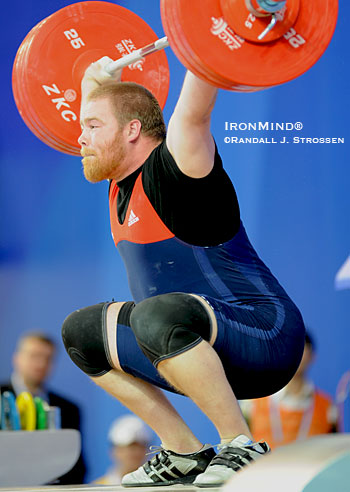 Casey Burgener snatched this 180 kg at the Olympic Test Event in Beijing earlier this year. This weekend, Casey Burgener is going to be a crowd favorite as he fights for the place on the 2008 U.S. Olympic Weightlifting Team that a lot of people feel he has already earned. Go, Casey! IronMind® | Randall J. Strossen photo.

Thanks to the great last-minute performances of the USA Weightlifting men's team in Thailand, the U.S. earned three slots for Beijing, but when another country's drug positives changed the overall standings, the U.S. was left with no allotted lifters for its men, a situation that did not sit comfortably with many - the U.S. team had no positives, yet it was being penalized because another country did.

Fighting back, USA Weightlifting won two slots at the Pan American Championships earlier this year and today, the team was given the third slot.

"Dr. Tamas Ajan, president of the International Weightlifting Federation (IWF), and Dragomir Cioroslan, U.S. Olympic Committee member and IWF Vice President, deserve all the credit on this," Dennis Snethen, USA Weightlifting Executive Director, told IronMind®. Clearly being modest since he, personally, has worked relentlessly to get the slots restored to the United States' men's weightlifting team, Dennis Snethen allowed that, "Even if I did nothing else while sitting in this chair, I am proud of this."

The U.S. Olympic Weightlifting Team Trials are this Friday and Saturday in Georgia Tech's Ferst Theater (Atlanta, Georgia) and with three slots for the men's team, the action will only intensify. "Someone's life will change because of this, by being on that Olympic team." Snethen told IronMind®. "This is a happy, happy day."

And it's fair to say that these Trials could hardly have been scripted for greater drama as the man who was key to the USA men's team having amassed so many points in the first place, Casey Burgener, is currently ranked outside the top three, a situation that makes some people quick to cry injustice, according to Snethen.

"'It's so unfair . . . the sky has fallen . . . ,' they say, but I don't see it that way at all," Snethen said. "Casey's sitting in the catbird seat: he goes last and knows exactly what he needs to make the team; everybody else is shooting in the dark." And as for the lifts that Casey Burgener needs, Dennis Snethen sees them as completely achievable.

"I have never lost faith in Casey - he can make the lifts he needs: I have seen him make the lifts. If he's on [at the Trials], he's on [the U.S. Olympic Team]. If he makes two snatches, I know he can do it. Casey is in top shape right now."