USA 1 Leads Highland Games Team World Championships
Pleasanton, California—After the first day of competition, USA 1 (Dan McKim and Chad Gustin) lead the IHGF Highland Games Team World Championships.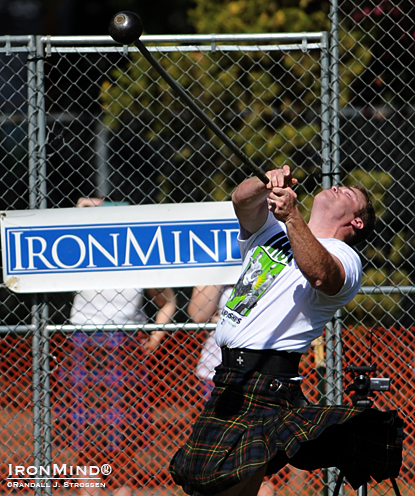 Dan McKim set a new team world championships record in the 16-lb. hammer today in Pleasanton, California, with a distance of 142' 8-1/2". IronMind® | Randall J. Strossen photo.


The competition opened this morning with the Braemar Stone, which was won by Sebastian Wenta (41' 3"). Sean Betz was second and Dan McKim was third. Following the competition, Wenta took three extra attempts in an effort to break Petur Gudmundsson's field record (42' 2", set in 2000), but he fell short of that mark.

Next up was the light hammer and Dan McKim broke the world team championships record in the process of winning the event. Mike Pockowski was second and Sean Betz was third. At this point, Team Europe continued to lead as it had from the first event.

The 56-lb. weight for distance was a turning point today, as Daniel McKim again earned top honors, with Ryan Vierra coming in second and Chad Gustin getting third; as USA 2 (Mike Pockowski and Ryan Vierra) assumed the lead.

The weight for height was contested in the traditional, standing style and Dan McKim edged out Mike Zolkiewicz on countback (17'), and Sean Betz earned third place. Team USA 2 maintained its overall lead at this point.

The caber toss was the final event of the day, and Sebastian Wenta won. Mike Zolkiewicz ws second and Ryan Vierra was third. USA 1 (McKim and Gustin) had the overall lead at the end of the first day.

The action continues tomorrow, and the in addition to the Highland Games Team World Championships with the open stone, the 28-lb. weight for distance and the 22-lb. hammer in the morning. In the afternoon, in front of the grandstand, the Caber Tossing World Championships and the 56-lb. Weight for Height World Championships will be contested.

Follow IronMind on Twitter for live updates from the field again tomorrow.

###

Visit the IronMind Forum: talk strength, discuss this story. Strongman, grip, Highland Games, Olympic lifting, stones and more.

You can also follow IronMind on Twitter.