US World Championships: More Classes, More Competitors
Saying that they are not there yet with ASC's numbers but are having a similar experience with crossover CrossFit athletes competing in the newly-created lighter bodyweight classes in strongman, Jyrki Rantanen's US World Championships is two weeks out.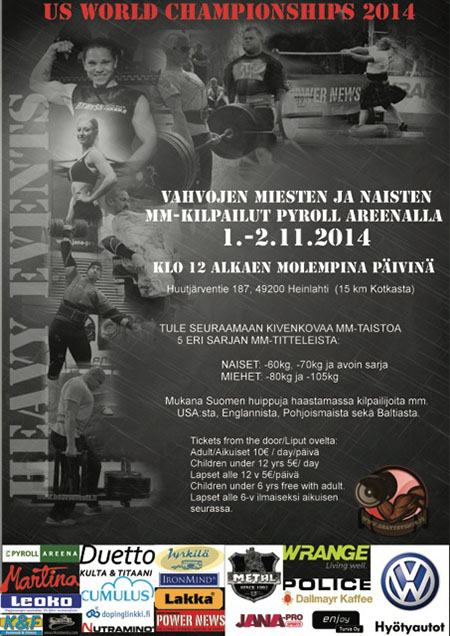 The 2014 US World Championships will feature more body weight classes for both men and women. IronMind® | Artwork courtesy of United Strongmen


"Our last big show for this year contains the inaugural classes for women under 60 kg and under 70 kg and men´s under 80 kg, which are new to our world championships program. On top of them we have the usual women´s open class and men´s -105 kg in the program, too," Rantanen told IronMind.

"The top countries taking part in the happening are Scandinavian countries, UK along with Ukraine, South Aftica and USA. The competition will be held at Pyroll Areena in Pyhtää, Finland, November 1 - 2.

"After the competition we are launching our interesting 2015 calendar along with further info about upcoming anti-doping program, that we are working for our events with FINADA. 2015 will include again more classes in the US World Championships along with this major innovation of bringing drug testing to the competition and to the training season."


###

Want to talk strength? Join the IronMind Forum.

You can also follow IronMind on Twitter and on Facebook.