US Rolling Thunder National Championships
You know how there's the line in Hollywood that you should always leave the fans wanting more, well that's the way things worked at the GNC Show of Strength because a too-tightly-packed schedule was putting extreme pressure on the strongman contests and on the US Rolling Thunder National Championships.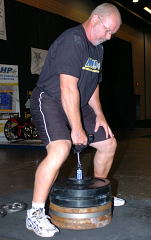 Odd Haugen, who defended his US National Rolling Thunder title, takes a shot at 260 pounds. IronMind® | Randall J. Strossen, Ph.D. photo.
Thanks to the Herculean efforts of Dione and Willie Wessels, the NAS Heavyweight Championships and the MHP Professional Invitational Strongman Championships were pulled off in great style, and by splitting the Rolling Thunder Nationals into two sessions - characterized by a feverish attempts tempo and big jumps - we managed to squeeze in the contest for the die-hard grip guys who would not be denied their chance to compete.

The unquestionably-strong Odd Haugen prevailed once again as the US Rolling Thunder National Champion, even though he is coming off biceps surgery, and Odd's biggest disappointment seemed to be that due to scheduling conflicts, he didn't have a chance to match grips with Wade Gillingham or Phil Pfister.

Odd took a shot at 260 pounds - which didn't want to go on this day - but had to settle for a winning weight of 242 pounds. Chad Woodall got second (222 pounds), and Ryan Brown got third (207 pounds) and he graciously split his third-place prize with Chris St. Clair, who took a huge jump from 187 pounds (good) to 222 (missed), just to try to save time when we were on countdown with the Georgia State Trooper who, after somewhat tense negotiations, graciously granted us five extra minutes to finish the contest before getting booted from the expo hall.

Congratulations guys and next time we'll be sure to have a more leisurely pace.