US Nationals: Strongmen Getting Ready
Sure the field was cut way back for the 2004 World's Strongest Man contest, but with that change the US Nationals just might prove to be that much better this year.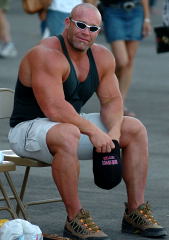 Even when he's just sitting around, one look at Jon Andersen's delts gives you an idea of why he's a force to be reckoned with in any strongman pressing event. Andersen, an honors graduate of NAS, is looking to do well at the US Nationals later this year in Atlanta. IronMind® | Randall J. Strossen, Ph.D. photo.

Set for the GNC Show of Strength in Atlanta October 8- 10, the US Nationals are expected to draw the top names in American strongman, and if Jon Andersen's plan is any indication, watch for some top-level competition.

Asked if he was going down to World's Strongest Man, Jon said that he had been thinking about going, to help support Steve Kirit, but especially because Steve is doing so well right now, Jon plans to stick around, train hard, do well at Nationals and hopefully be at World's Strongest Man as a competitor next year.

For all the details on the US Nationals, please check the official NAS website.