US Armwrestling Coming to Texas
This weekend, the Europa IFBB Super Show in Arlington, Texas will feature a pro-am armwrestling challenge put on by the US Armwrestling Association - the same organization that puts on many of the other top tournaments you read about in MILO®.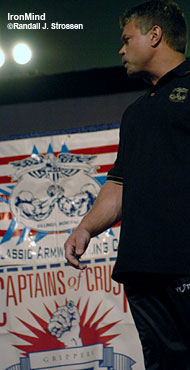 The deadly right forearm of arm wrestling legend John Brzenk, who reportedly will be pulling in Texas this weekend. IronMind® | Randall J. Strossen, Ph.D. photo.

Denise Wattles, US Armwrestling Executive Director, said that Texas tournaments have always produced a lot of powerful pullers, and she expects the pro-am tournament this weekend to be the beginning of even bigger things in the Lone Star State. In addition to John Brzenk, other top guns expected to do battle include Ray Hendricks, Mike McGraw and Tom Nelson.