US$10,000 + Invitation to a WSM Qualifier
That's part of the formula for next weekend's All-American Strongman Challenge, one of the featured events at the FitExpo in Los Angeles.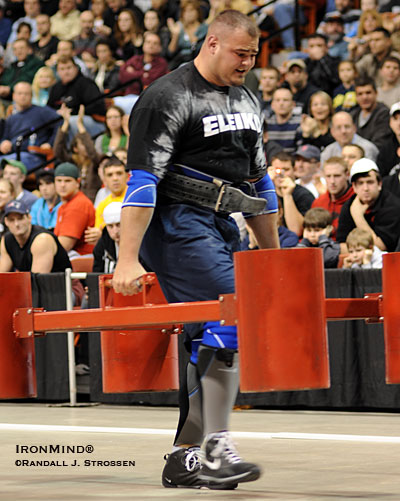 One of the boys: 6' 8" tall, 370-pound Brian Shaw is in the field at next weekend's All-American Strongman Challenge, just so you understand the scale of top strongman competitors and get an idea of what happens when they put the pedal to the metal. Incidentally, Brian Shaw has the kind of grip strength that recently netted him second place at the 2008 IronMind® Rolling Thunder® World Championships. IronMind® | Randall J. Strossen photo.


When Odd Haugen relocated from Hawaii to Southern California a few years ago, he brought along a history of running top strongman contests and an interest in doing the same thing in Los Angeles. Enter FitExpo, and when the doors open on Friday, you can bet that some of the biggest guys strolling around are there for the All-American Strongman Challenge, a contest that offers a $10,000 cash prize list plus a chance to qualify for the 2008 World's Strongest Man contest.

Seventeen guys will start off, and with a composite profile of 6' 3" tall and 310 pounds bodyweight, it's hard to miss these guys. And that's before they start pulling trucks or lifting stones, logs and a pile of other heavy stuff.

Check the official FitExpo site for full details and ticket information, but here's a summary of what to look for in the All-American Strongman Challenge.

Friday, things kick off at 3:00 with the Subway Truck Pull - these guys will slip into an IronMind® pulling harness and show everyone the real secret to getting a top MPG rating. The Farmer's Walk and then the Super Yoke Carry will follow.

On Saturday, at 4:00 pm, the strongmen continue with a Log Press, and after that event, the top 12 will go on to final four events. The Stones of Strength and then a Deadlift Medley follow.

Sunday, at 11:30, it's an Overhead Lifting Medley and then the last event, a Farmer's Carry Medley.

See you there!