UFSA, SCL and Giants Live Set To Converge on Kiev
Three strongman organizations, two bodyweight classes and one location will produce "two great shows at the same venue in the heart of Kiev," Strongman Champion League's Marcel Mostert told IronMind® today.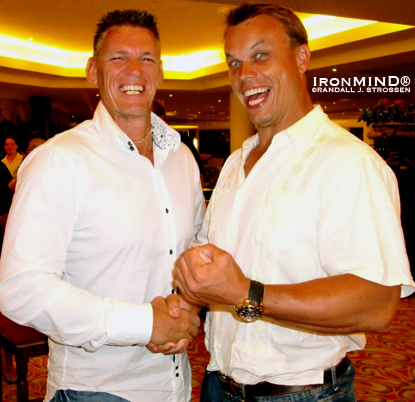 Handing his camera to IronMind's Randall Strossen at the 2009 World's Strongest Man contest, Marcel Mostert said: "Randy—take a presidential picture of Colin and me." "A presidential picture?," Strossen asked. "You know, you shake hands and smile, but you hate the other guy," Mostert explained. Not all is flames and daggers between the respective heads of Strongman Champions League (Marcel Mostert, left) and Giants Live (Colin Bryce, right), though, and this weekend they will be joining forces in Kiev for a strongman extravaganza. IronMind® | Randall J. Strossen photo.


"It will be a busy strongman day in Kiev on May 30," said Mostert. "The organizations UFSA, SCL and Giants Live will all work together to make two great shows on the same venue in the heart of Kiev.

"Fourteen [strongman] events will be done in total, probably the most events ever done in one day! Giants Live will make its qualifier for World's Strongest Man; and UFSA/SCL will make a great team event for 105-kg class, with Team Ukraine versus Team Europe.

"Vladimir and Olena Kiba, the main promoters, will work together with the crew of SCL and Giants Live," Mostert said. "Beautiful dancers, folklore, celebrities, strongmen, music, and a great venue will be the ingredients for a great day in strongman sport."
The events for the 105-kg teams will be:

1. Sudan Walk (4 athletes): 900 kg/20 + 20 m

2. Log Lift (3 athletes): 330 kg/reps (60-second time limit)

3. Arm-over-Arm (4 athletes): sled, 20 m

4. Tug of War (4 athletes)
5. Dumbbell (4 athletes): 80 kg
6. Manhood Stones (4 athletes): 170 kg/125 cm

7. Squat (3 athletes): 320 kg (60 sec each)
Marcel Mostert, Ilkka Kinnunen and Colin Bryce "will all work together to referee these events in the best way," and "all the events will be televised."
Watch for more details/contest reports on the SCL website, as well as on the IronMind® website.
Want to talk strength? Join the IronMind® Forum!

You can also follow IronMind® on Twitter.