Trying to get a prediction for upcoming Highland Game World Championships out of Jim "Big Chief" McGoldrick isn't a piece of cake, but one thing is certain, the Chief is expecting a huge performance from defending World Champion Ryan Vierra.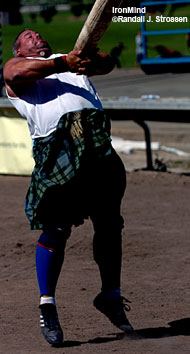 Ryan Vierra will be taking a shot at turning a big stick in downtown San Francisco tomorrow, as he gets ready to defend his Highland Games World Champion title this weekend in Pleasanton, California. IronMind® | Randall J. Strossen, Ph.D. photo.
"Ryan is always hard to beat if he's in decent shape," said McGoldrick. "He's hard to beat even if he's injured," he added.

McGoldrick, who retired as a five-time Highland Games World Champion, said that regardless of the final results, though, it's going to be a great weekend and he's looking forward to being there and seeing the action in person.

His toughness as a competitor will come in handy because Ryan Vierra is expected to be pushed hard in Pleasanton, California this weekend, as the Caledonian Club of San Francisco presents the 141st Scottish Highland Gathering at Games at the Alameda County Fairgrounds.

Helping to spark interest in this huge event, tomorrow at 1 p.m. in the Justin Herman Plaza at the foot of Market Street in downtown San Francisco, Ryan Vierra will attempt to turn a caber - something that "has not been attempted since the Caledonian Club of San Francisco's first gathering and games in 1867," said Floyd Busby.

Adding to the international field of this year's competition, Athletic Director Steve Conway said that the Ukraine's Kyrylo Chuprynin is due to arrive today, "after a long effort to get his visa." The six-foot three-inches tall 294-pound two-time Olympian in the discus is in his third year as a Highland Games competitor and whenever he shows up, look for dizzying throws in the standing weight-over-the-bar.