"The contest went very well," said Dione Wessels, summing up this weekend's IFSA USA Grand Prix.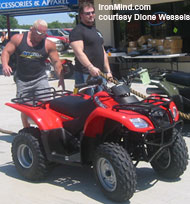 Jon Andersen, who finished third this weekend, and Magnus Ver Magnusson, who refereed, check out the ATVs. IronMind® | Photo courtesy of Dione Wessels.

"Events such as these are always tiring but well worth the efforts and energy spent from everyone, as it gives American athletes the experience of international competitions," Wessels said. "I must give many thanks to Ryan Myers of Oklahoma Strongman, since it was his vision that started this competition generated from a single phone call. We are meeting later this week to start promotions for next year, with hopes of making this a yearly event that gets bigger and better each year in America."