Antalya, Turkey—There was a lot of excitement in the 85-kg class at the European Weightlifting Championships as even if the weights were not huge, as Germany, Georgia and Turkey all had a chance to flex their muscles in the hunt for gold medals.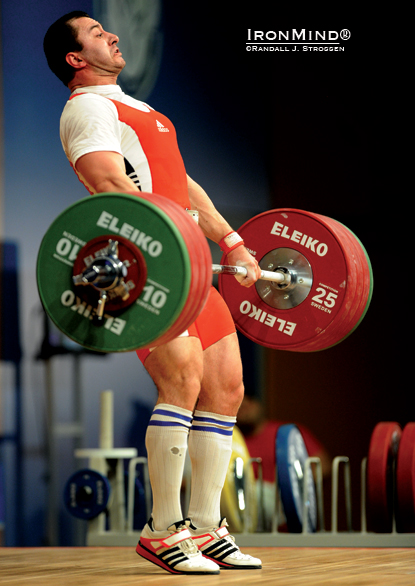 Rauli Tsirekidze cranks on 200 kg: He went six-for-six, winning the silver medal in the snatch and jerk, and the gold in the total in the 85-kg category at the 2012 European Weightlifting Championships. IronMind® | Randall J. Strossen photo.

With his family following every lift, Fatih Baydar (Turkey) won the snatch via three good snatches landed him on 166 kg, one kg ahead Rauli Tsirekidze (Georgia), who, in turn, was one kilo ahead of Gabriel Sincraian (Romania).

Baydar continued to light things up in the clean and jerk when he opened with a good 185-kg lift, couldn't stand up with 192 kg, moved to 193 kg, struggled mightily to get up with it and then punched the jerk overhead for a good lift. Fast forwarding to the top of the class, Tsirekidze made three more good lifts, to end with 200 kg in the jerk, and Tom Schwarzbach (Germany) got the gold with 201 kg.

###

Visit the IronMind Forum: talk strength, discuss this story. Strongman, grip, Highland Games, Olympic lifting, stones and more.

You can also follow IronMind on Twitter.