Trevor Laing Certifies on the IronMind Red Nail™
Recognizing his bend under official conditions, IronMind has just certified Trevor Laing and added his name to the Red Nail Roster™.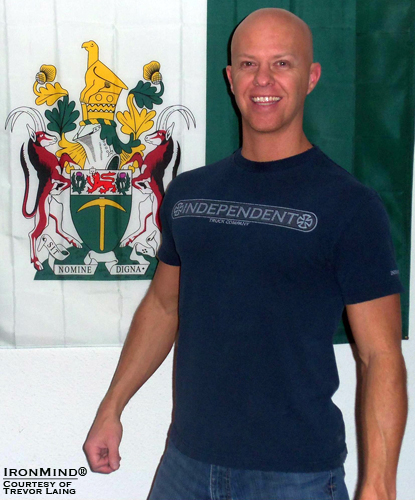 "My picture was taken in front of the Rhodesian flag. My family emigrated from Rhodesia to America when I was 5; I became an American citizen at age 14. Rhodesia no longer exists, so there may only ever be one Rhodesian on that roster," said Trevor Laing, which makes his mastery of this benchmark short steel bend that much more significant. IronMind® | Photo courtesy of Trevor Laing.


"I give God the glory in Jesus Christ for all that he has accomplished in my life," Laing told IronMind. "My training primarily consists of squats, weighted dips, bending, and grip/wrist training. I use the Bio Feedback Method (Adam Glass and Brad Nelson) to order my workouts. I've been having a lot fun training crush grip lately."

Talking about crushing grip, Captains of Crush® Gripper aficionados will remember that Trevor Laing wrote and recorded the Captains of Crush Grippers song, and by certifying on the IronMind Red Nail, Laing proved he is no mere armchair fan.

Laing—who is 36 years old, stands 5' 9" tall and weighs 175 pounds—thanked his referee, Steve Kicinski, for handling "the entire process with thoroughness, kindness, and a deep appreciation for the strength community," and Steve had these summary comments about the official bend: "Trevor 'nailed' it! That piece of metal never had a chance. Very impressive performance from a nice guy."

Many thanks, Steve, and congratulations, Trevor!

###


Want to talk strength or discuss this article? Join the IronMind Forum!

You can also follow IronMind on Twitter.