Travis Ortmayer Leading at ASC US National Strongman Championships
It was a big first day at the 2011 ASC US National Strongman Championships contest and American Strongman Corp's Dione Wessels gave IronMind a top line report.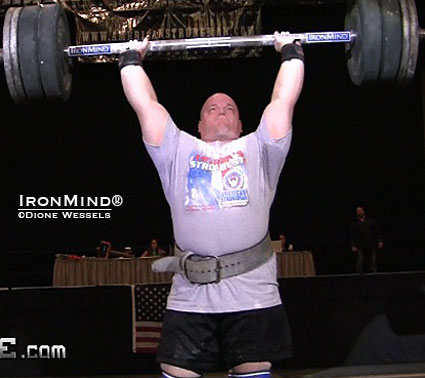 Scott Weech hit this big 423-lb. lift on the IronMind Apollon's Axle in the first day of action at the 2011 ASC US National Strongman Championships yesterday. IronMind® | Photo courtesy of Dione Wessels.


"We started the evening with the IronMind max axle. Scott Weech gets 423 pounds on his second attempt. Many guys tried close to 400 but failed.

"Second event was the yoke and Harley sled drag. Travis Ortmayer wins the event.

"Third event was the Bigg Dogg Strongg Husefeldt. Newcomer and training partner of Brian Shaw, Michael Burke wins the event with 215'.

"The fourth event of the day was brutal for all but the fans loved it! The Chevrolet car wheelbarrow. Only three guys could finish it and Travis was one of them. He won the event in 29.22 secs.

"The top six standings after day one are:
| | | |
| --- | --- | --- |
| 1. | Travis Ortmayer | 48.0 |
| 2. | Dave Ostlund | 38.0 |
| 3. | Josh Thigpen | 35.5 |
| 4. | Michael Burke | 34.0 |
| 5. | Carl Foemmel | 32.0 |
| 6. | Justin Warren | 28.5 |
"We start today at 1 p.m. [CST]. The events today are the Keg Toss, Push-Pull Medley, Chevy Car hold for time and Atlas Stones," Wessels said, so the curtain is about rise at day two of the ASC US National Strongman Championships.

###

The IronMind Forum: discuss this article, talk strength, get help with your training.

You can also follow IronMind on Twitter.