Travis Ortmayer Going to the Garden . . . Early Favorite
Hold on strongman fans - just when you thought the Super Series Madison Square Garden Grand Prix couldn't get any bigger or better, guess who's coming to the party?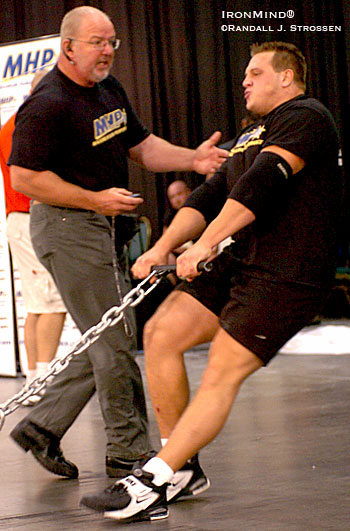 With Odd Haugen maybe yelling, "Mariusz who?!," Travis Ortmayer brings it home at the 2004 NASS National Heavyweight Championships, where he won the title and began his transition to professional strongman contests. IronMind® | Randall J. Strossen photo.

Travis Ortmayer is ripping through the year: winning at FitExpo and St. Patty's, coming in second (to Zydrunas Savickas) at the Strongman Champions League competition in Riga - not to mention working as a color commentator at the Arnold strongman contest, getting married the week after, and launching a personal training business with his father. And guess who's not just officially on the start list for the Super Series Madison Square Garden Grand Prix, but unofficially is a favorite?

"Favorite? How did you come up with that?"

Going into the Eleiko Super Series Mohegan Sun Grand Prix, Derek Poundstone predicted that he was the man to beat Mariusz, and while some thought this was an idle boast, that's just what Derek did.

"Forget Derek," IronMind® was told by a guy who has more than an academic familiarity with both men's capabilities, and he proceeded to talk up Travis: "He'll kick Derek's butt at the Madison Square Garden Grand Prix in June."

IronMind® asked Travis Ortmayer how he felt about this prediction and he said, "I can't wait to go head-to-head with Derek and Mariusz: they can have their little battle . . . for second and third place."

"I'm not trying to sound cocky, but you have to believe in yourself," Ortmayer said.

Explaining the basis for his confidence, Travis Ortmayer said that Derek Poundstone and he had tremendous experience competing internationally with the top guys from IFSA, adding that seeing "Mariusz get beat pretty bad by IFSA guys at the Arnold" also took away from Mariusz's aura of invincibility. "Half the battle is mental," he added, as he stoked his competitive fires.

It hasn't gone unnoticed that both Derek Poundstone and Travis Ortmayer have opted to go to the Super Series Madison Square Garden Grand Prix instead of the ASC nationals, and in Ortmayer's words, "It says a lot when Derek and I are choosing that contest over the nationals," not that either guy will be taking anything away from "the lucky individual who wins" the ASC contest. "The winner will truly be the American champion . . . He was the strongest on the day."

Speaking of his own decision, Ortmayer said that Jim Glassman has long been his mentor, and when he asked Glassman about the choice, Glassman replied, "What are you, stupid?"

"ESPN's king," Ortmayer said, noting that especially with his new business, it's imperative that he build up his exposure and increase his name recognition in the U.S., and the Super Series contest at Madison Square Garden is the way to do that.