Travis Ortmayer Blossoms in the Garden: The Texan Stone Eater Wins the Super Series Madison Square Garden Grand Prix . . . Qualifies for World's Strongest Man
New York City - It was packed at Madison Square Garden's WaMu Theater tonight, and the predictions proved true that the men to beat were Derek Poundstone and Travis Ortmayer.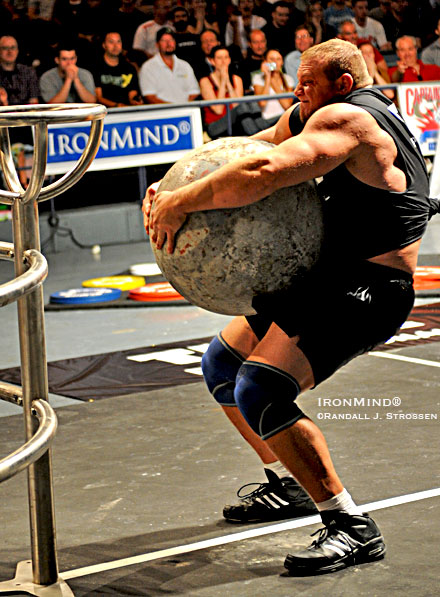 He called it bittersweet, saying, "This was the first time I failed to load a stone," but a lot of people would be happy to trade places with Travis Ortmayer, as he won the Super Series Madison Square Garden Grand Prix tonight, for top bragging rights and a guaranteed invitation to the 2008 World's Strongest Man contest. Randall J. Strossen photo.


Between these two, Derek Poundstone had the edge coming in - he was coming off a big win at the Super Series Mohegan Sun Grand Prix, followed by a solid second-place performance at the Arnold, but even Derek Poundstone's biggest supporter - no less than Bill Kazmaier - allowed that "maybe Travis Ortmayer can do something."

The big Texan certainly did do something - he proved to be the master gardener, winning in front of a packed house . . . It was his first Super Series contest and by virtue of his win, Travis Ortmayer qualified for the 2008 World's Strongest Man contest.

"Do you think you can win World's Strongest Man?" Colin Bryce asked Ortmayer.

Pausing a second, as if to consider the question, Ortmayer replied without blinking an eye: "Of course I can."

Here are the top six:

1. Travis Ortmayer, 32.75 points
2. Derek Poundstone, 29
3. David Ostlund, 24.5
4. Brian Shaw, 21.5
5. Oli Thompson, 19
6. Mark Felix, 18.5

In addition to his winning the title, getting a guaranteed invitation to WSM, and his cash prize, Travis Ortmayer was awarded the Eleiko barbell set used for the deadlift event, a magnificent prize presented by Eleiko president Lennart Blomberg.

And for Derek Poundstone fans, here's a bonus: Be sure to watch Good Morning America tomorrow, June 22!