Torrid Women's 75-kg Category: Part 1
Doha, Qatar - If you hadn't noticed, the women have been lighting up the World Weightlifting Championships, but for all the excitement they have generated so far, it was a whimper compared to tonight.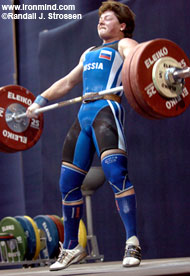 Natalia Zabolotnaya cranks on 130 kg, breaking the junior and senior world records she had set in the snatch just minutes earlier. IronMind® | Randall J. Strossen, Ph.D. photo.

To set the stage, there were four top juniors in the class: Natalia Zabolotnaya (Russia), Liu Chunhong (China), Svetlana Podobedova (Russia), and Nahia Ramadan (Egypt), and at the other end of the spectrum, there was 33-year-old Nora Koppel (Argentina).

Zabolotnaya ripped 123 kg overhead on her first attempt in the snatch, but then had to sprint forward to save the lift, which she did. Liu uncorked a machine-like lift with the same weight for her second attempt, having smoked 118 on her opener, and Podobedova, who had already racked up good lifts with 118 and 121, hit 124 on her third. By now, only the dead weren't sitting on the edge of their seats.

Liu called for 126 kg on her third attempt, made the lift and got the junior and senior world records for her efforts. Zabolotnaya took 127 on her second attempt, ripped the weight up, but had to run the very edge of the platform before she had it controlled overhead - give her the junior and senior world records in the snatch, and she still had one attempt left. Probably thinking that those world records were starting to age a bit too much, she took 130 kg on her third attempt, blew it up, was a little shaky overhead, but guess who just got two more world records.