"Zydrunas Savickas, the fresh Europe's Strongest Man 2012, will be in Holland at the 4th stage of the Coppa Cocktails Strongman Champions League," Marcel Mostert reported to IronMind.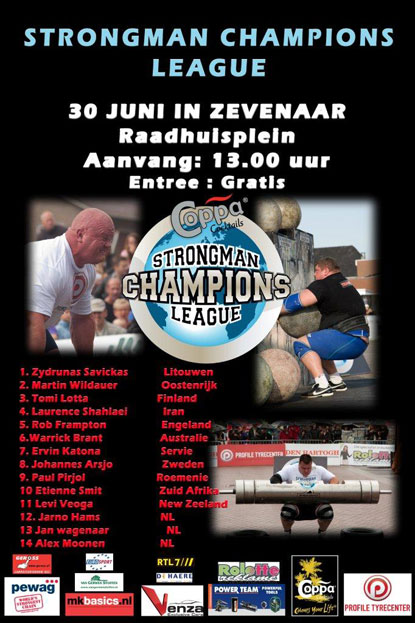 Zydrunas Savickas is scheduled to assault the world record in the log lift at this weekend's SCL–Holland competition. The Lithuanian strongman virtually owns this world record and most recently boosted it at Europe's Strongest Man. IronMind® | Image courtesy of SCL.


"This coming Saturday, 30 June, together with other top athletes like Laurence Shahlaei, Ervin Katona, Johannes Arsjo, local favourite Jarno Hams and many others, it will be guaranteed a top event to watch in Holland. This is the 4th stage out of 14 stages Strongman Champions League will do in 2012.

"Zydrunas, the leader in SCL at the moment, will do an attack on the world record log lift with 217.5 kg. He told me he will succeed! The log we use is the BIG, former IFSA log. This is not the log as used in the recent Europe's Strongest Man where he did 216 kg with a 26 cm diameter log. This a thick pure steel log, over 31 cm diameter, and wider than 2 meters. It is for sure more difficult with such a log, but I think Zydrunas will be able to do it.

"The weather is predicted to be great, 25 degrees C, so we expect a great show on Saturday 30 June in Zevenaar, Holland. Entrance is free," Mostert said.

###

The IronMind Forum: discuss this article, talk strength, get help with your training.

You can also follow IronMind on Twitter.