Top Con-Cret Grip Performance at the CrossFit Games
"Steve, 54, couldn't pick up 45 lb. last year," James Stoppani reported from the Con-Cret booth at the CrossFit Games where he is tempting CrossFitters to try his grip-strength challenge.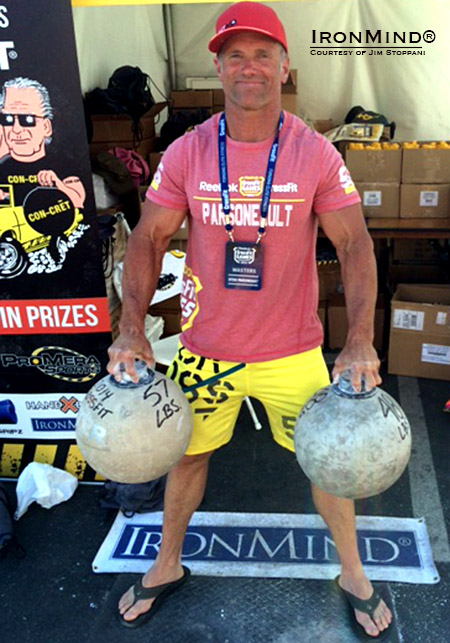 Steve Parsoneault completed the Con-Cret Grip Challenge at the CrossFit Games—matching Jim Stoppani with the following lifts: 6 one arm rows with 48 lb. and 2 rows with 58 lb. then a double lift for ten seconds. Those are custom Slater stones fitted with IronMind Hubs, a setup designed by Stoppani for his Con-Cret Grip Challenge. IronMind® | Photo courtesy of Jim Stoppani



"[He] bought an IronMind Hub and Pin and came back this year and tied me in my lifts. He won his CrossFit Division last year," said Stoppani.

Stoppani has been excelling at and championing Hub lifts for the last three years, bringing his challenge to tens of thousands of people.

###



Want to talk strength? Join the IronMind Forum.

You can also follow IronMind on Twitter and on Facebook.