Tommy Kono Clinic and Tommy Kono Open
"The Hassle Free BBC is pleased to announce the return of the Tommy Kono Open on Sunday, August 9 in Sacramento," according to a just-released statement.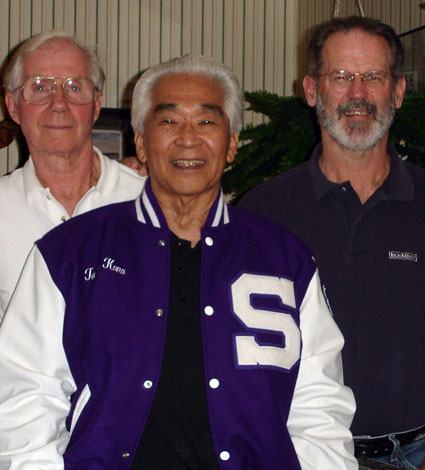 Tommy Kono (center) sports the Sacramento High letter jacket given to him at a 2006 dinner in his honor. That's Don Wilson (left) and Jim Schmitz (right) . . . three good reasons why the Pacific Weightlifting Association has the mighty legacy that it does. IronMind® | Randall J. Strossen photo.

"This is our fourth year and this year's event will be bigger and better than ever. Once again Tommy Kono himself will be attending and conducting a hands-on coaching clinic on Saturday, August 8. Kono IV will be a single-platform event held in the Mel Lawson Theater on the Sacramento High Campus. The theater makes for a dramatic lifting venue and the adjacent open and airy campus quad will have 10 warm-up platforms. We have some great changes to the venue planned and we are working hard to make sure the air conditioning is working this year."

Tommy Kono, a Sacramento kid who made good, is a legend in the weightlifting world, a two-time Olympic gold medalist who broke world records by the handful. Arnold said that as a young man he was inspired by Tommy Kono and used the word "studly" to describe him, for good reason - besides his lifting prowess, Tommy Kono was no slouch as a bodybuilder either.

Check out the flyer for the Tommy Kono Open or go to the website for an entry form.