Tom Goegebuer Wins the 56s
Bucharest - He's 34 years old and from Belgium, not exactly the basic profile for winning gold medals in weightlifting, but Tom Goebeguer did himself proud as he won two golds and one silver medal in the 56-kg category at the European Weightlifting Championships.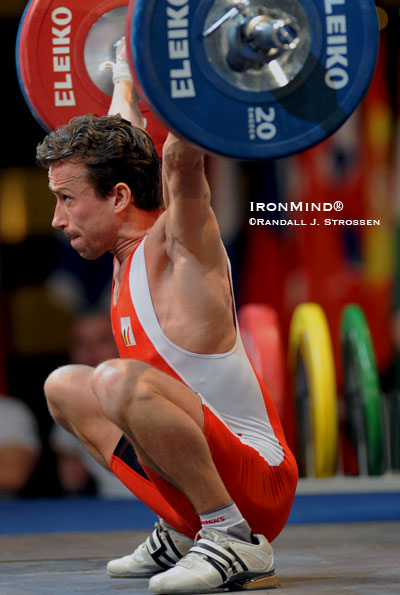 Tom Goegebuer hits the hole with this 115-kg gold medal snatch at the European Weightlifting Championships. IronMind® | Randall J. Strossen photo.

Goegebuer went six for six, lifting purposefully and picking up steam as he went, marching through 109 kg, 112 kg and 115 kg in the snatch. Turkey's Artuc Sedat edged Igor Grabucea (Moldavia) for the silver medal in the snatch on bodyweight, as both lifters had best lifts of 110 kg.

Sedat dropped out of contention in the jerk and in the total when he only made his first clean and jerk, 135 kg, before missing the jerk badly on both 137 kg and 142 kg. Grabucea made 130 kg, 134 kg and 136 kg, for the bronze medal in the jerk and in the total.

Goegebuer continued with the steady pace he had established in the snatch, as he nailed 132 kg, 136 kg, and 137 kg in the clean and jerk. Vito Dellino (Italy), who had opened with 135 kg in the jerk, won the gold medal in the jerk with his second attempt, 138 kg, and when he called for 143 kg on his third attempt, the selection was hard to understand since it would tie him with Goegebuer in the total and both men weighed the same (55.71 kg). As it turned out, the call was academic because Dellino missed the jerk, but he had added a silver medal in the total to his haul for the night.