Timo Tuukkanen Certifies on the Captains of Crush® No. 3 Gripper
Nine months into his grip training and Finland's Timo Tuukkanen has achieved world-class status in grip strength as IronMind® has just certified him as officially closing the No. 3 Captains of Crush® Gripper.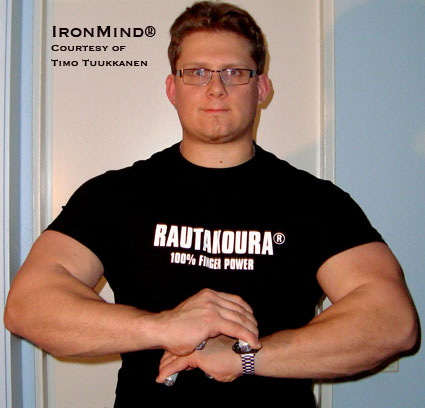 Quick learner or reaping the benefits of years on the job? Either way, Timo Tuukkanen has proven he has world-class grip strength, just certifying on the CoC No. 3 gripper. IronMind® | Photo courtesy of Timo Tuukkanen.


The 30-year-old Tuukkanen weighs 120 kg and while he has "been training about 12 years at the gym more or less regularly, few later years more, mostly bodybuilding style," he described himself as "a newbie on grip training since I tried some CoC grippers first time ever at exhibition autumn 2008 and noticed then that I have quite nice grip by nature or as a result of my physical work with conveyor belts installation at our family-owned company." Tuukkanen also attributes his success to "his training buddy Juha Harju."

Congratulations, Timo, it's official: You have been certified on the Captains of Crush® No. 3 Gripper, joining the ranks of the best in the grip-strength world!