"Thunder from Down Under"
Bill Lyndon has served notice that he's a player in the world of Australian/Asian strongman and beyond, and starting off the new year with a bang, Lyndon told IronMind®, "Derek Boyer announced today that he is the character 'Thunder' in the new Gladiator series in Australia."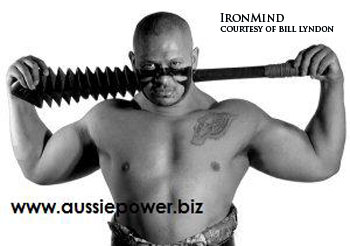 "After a month of very tough training in the build up to the series start, which took place this past week with the recording of the first three shows of fifteen in the series, Derek is well on the way to super stardom as he is the biggest toughest Gladiator ever," Bill Lyndon reported to IronMind. IronMind® | Photo courtesy of Bill Lyndon.


"Derek is weighing in at 135 kg, is fit and fast, and is showing versatility and athleticism which is directly connected with many years as a strongman competitor and exponent of the old art of Judo. Speaking with Derek today, I asked him about the preparation for this type of show and he said it is the hardest training he has ever done. He stated that the production has spared no expense, with the best trainers, coaches and nutrition experts available in Australia. Derek said it's 'tough and very demanding on the body, but my recovery is the key and I'm feeling very good after the first three shows.'

"Derek said the contestants so far are from elite level sports such as rugby, Australian football and the military: 'These guys are pushing me hard and I'm fighting for dominance. I am making them feel my power and they are leaving the arena with more than they bargained for.'

"The word has got out that there is a serious contender from Down Under and this has spiked big interest from the U.S. big budget Gladiator shows currently in production. 'Who is this guy?' they are asking."

Lyndon continued, "I asked Derek about this and he replied by saying that he would first like to finish this series in one piece and would be happy to unleash his character 'Thunder' on the American public, by opening a big can of whoop ass on the American Gladiator characters. 'They will be thunderstruck,' he said.

"Talking further with Derek about his first love, strongman, I asked him about future events in strength, and he said that he will start training late February for the Australian Grand Prix that will take place mid April, to defend his long dominance as the 'Strongest Man from Australiasia.' Derek said, 'It will be tough to prepare after the shows from Gladiator and there is a big crew of strong guys chasing my mantle.' "