If you've never seen it, the three-man log lift might be hard to picture, so here's what it looks like.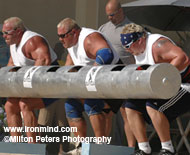 (Left to right) Jon Andersen (USA), Van Hatfield (USA) and Geoff Dolan (Canada) combine forces in the three-man log. IronMind® | Photo courtesy of Milton Peters Photography.
The action in the IFSA World Team Championships continues today, as Team Europe faces Team Scandinavia.