Thor Leads SCL Finland, Heinla is in Second Place
"Lots of surprises in Vaasa after the first day," Ilkka Kinnunen reported to from SCL Finland today.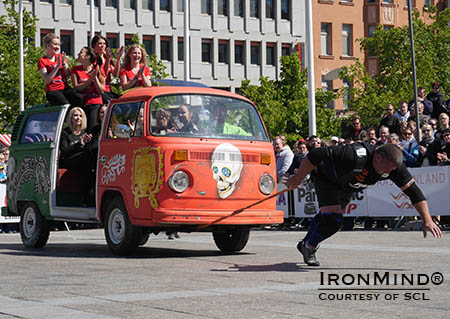 Rauno Heinla (Finland) on the Mini-Bus Pull. Heinla is in second place after the first day of the MHP Strongman Champions League (SCL) Finland. IronMind® | Photo courtesy of SCL


"On a sunny day with approximately 4000 spectators cheering when the giants of Champions League started their first competition day.

"In the first event, athletes carried total of 330-kg Frame a distance of 20m and immediately followed with 380-kg Yoke for 25m. The winner of the event Marius Lalas (Vytautas Lalas's little brother). He beat Thor by 2 seconds.

"The second event was a Pressing Medley: 150-kg Log, 97.5-kg Circus Dumbbell, and 175-kg Log. Only one athlete could manage the whole course, Estonian Rauno Heinla, who came into the competition at the last moment. Second again was Thor.

"The last event of the day was the Mini Bus Pull. The bus was loaded with women and pulled uphill just with an IronMind harness. This was easy win for Thor, who now also leads after first day. Second was Lauri Nami.

Top 3 after first day:

Thor Björnsson 33
Rauno Heinla 30.5
Martin Wildauer 29

Tomorrow we start again at noon with 3 events, so stay tuned for more details and the final results," said Kinnunen.

###



Visit the IronMind Forum: talk strength, discuss this story. Strongman, grip, Highland Games, Olympic lifting, stones and more.

You can also follow IronMind on Twitter and on Facebook.