Saying that it "offers a friendly format for presenting weightlifting to the public," David Goldstom told IronMind® that the Thor Cup demonstrated a way to popularize the sport most people only hear about in the context of the summer Olympics.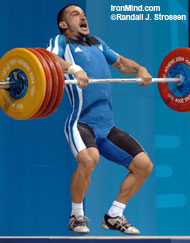 Superstars such as Pyrros Dimas (Greece) competing at the Olympics will always be the crown jewels of the sport, but David Goldstrom feels that events such as the Thor Cup will do much to promote weightlifting and broaden the appeal of the sport. IronMind® | Randall J. Strossen, Ph.D. photo.

David Goldstrom, who is the Creative Director of London-based Television in Europe, developed the concept of having national teams compete in a round system, where each team had three lifters with a combined bodyweight of no more than 280 kg and, quite simply, the team that lifted the most won.

Continuing to think of what might make the sport more appealing, Goldstrom staged the Thor Cup in the Winter Garden Performance Arena of the Smaralind Mall in Reykjavik - a setting that had eye appeal and a live audience to draw from. Icelandic TV provided two hours of coverage, and Goldstrom said that the audience was captivated by what they saw - so much so that Goldstrom is convinced he has seen the beginning of what could flourish into a team world cup tournament.

Final results from the Thor Cup were:

1. Finland 932 kg
2. Norway 902
3. Sweden 883
4. Denmark 816
5. Iceland 598

Summing up the reaction of the participants, Anders Nielsen, who coached the Danish team, called it a "fantastic competition" and said that the way the team was treated "was most impressive." His bottom line? "If anything like this ever shows up again just let us know - we will be there!"