Things Are Hopping at the European Weightlifting Championships
Wladyslawowo, Poland - Henadzi Aliashchuk (Belarus) had things his way in the men's 69-kg class at the European Weightlifting Championships today, and his way was six good lifts, three gold medals and a new European record in the jerk.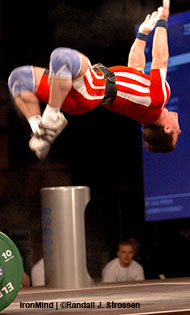 Henadzi Aliashchuk (Belarus) celebrates his 197-kg European record clean and jerk. Bill Kazmaier, getting pretty cosmic, once told IronMind that he was inspired to lift [such huge weights] because he was frustrated by his inability to master levitation. Wonder if Aliashchuk ever thought about that? IronMind® | Randall J. Strossen, Ph.D. photo.

Ninel Miculescu (Romania) ripped through three snatches, nailing 140, 145 and finally, 148 - feet flying when he lifted, he celebrated with some yelling that left no doubt that he was pretty happy, because his final lift put him ahead of Demir Demirev, who had made 148 on his second attempt with a rock-bottom lift. Aliashchuk, who had opened with a very strong 145, took 150 on his second attempt and he just smoked it. Demirev, trying to regain silver medal position in the snatch, called for 150, but he only pulled it. Aliashchuk closed out the snatches with another great lift, this time it was 153 kg.

Before the session started, Dave Morgan mentioned that he was looking for a strong performance from Vencelas Dabaya (France), and he certainly looked good in the clean and jerk: 176, 179 and 180 were done with ease, and he went home with the bronze medal in the jerk and in the total. Demirev marched through 176 strongly and although he staggered around a little when he jerked 181 on his second attempt, he got the bar under control for another good lift. Aliashchuk opened with a powerful 182, Demirev did a pull with 188, and Aliaschuk, who had already won the gold medal in the jerk and in the total, made 189, looking like a fast-moving freight elevator. But why stop even now? On the last attempt of the category, Aliashchuk called for 197 in a bid to break the European record in the jerk - he made the lift and polished it off with a back flip; the only blemish on a stellar night was that he didn't stick a perfect landing, but only he seemed to mind when his feet slipped a little when they hit the platform.

In the women's 69-kg category, Tatiana Matveeva (Russia) turned in a dominating performance and showed her mettle when, with about 12 seconds on the clock, she ran up on the platform, and with one second left, she cleaned and jerked her opener, 140 kg, which was good for the gold medal in the jerk. She missed the clean on 145 on her second attempt, came back to make the lift on her third and pointed to the crowd, to emphasize that she really could lift that much weight, and probably more.

Natalia Zabolotnaya (Russia) picked up where she left off in Doha, going for, but missing the world record in both the snatch and the clean and jerk - the only lifts she missed, as she swept the class and finished six kg ahead of her countrywoman Valentina Popova, who did 122 and 150.