Dr. Douglas Edmunds - the spiritual father, high priest and clan leader of modern strongman - would like to see unity in the sport, saying, "Play it straight . . . be truthful . . . there can only be one."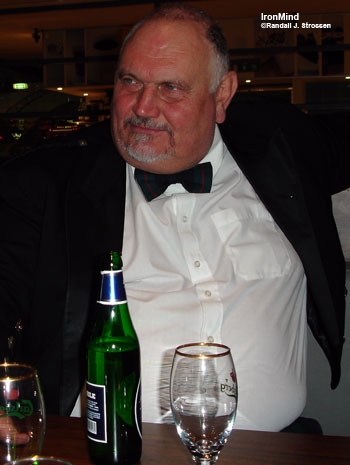 Dr. Douglas Edmunds relaxes at the Jon Pall Sigmarsson premiere in Reykjavik last year. IronMind® | Randall J. Strossen, Ph.D. photo.

Edmunds is referring to the fragmented state of strongman, with its multiple champions, saying that it confuses and misleads the public - weakening the sport and diluting the earning power of its athletes. Without going so far as to say that he sees unification as imminent, Edmunds said he sees this prospect having a "fair chance in the next couple of years."

"It's the only decent and honest thing to do," Edmunds told IronMind®.